Jordan graduated from Oberlin High School where he was crowned Mr Basketball in Lorain County.  Jordan went onto continue his playing career at Oberlin College, where he graduated with a degree in Sociology. Jordan has now become one of the most sought after trainers in the area due to his preparation and attention to detail.
A lifelong Lorain County resident, DJ Graham has settled in perfectly here at HoopTech. After graduating from Elyria Catholic in 2015, DJ went on to further his education and continue his playing career at Indiana Tech. He would later transfer to Mt. St Joseph's in the Heartland Collegiate Athletic Conference and graduate in 2019 with his degree in Sports Management. DJ has returned to his alma mater and now patrols the sidelines as the Head Boys Junior Varsity Coach and Assistant Boys Varsity Coach. DJ has a passion for teaching the game and leads the instruction for many of our member classes.
A North Olmsted native and 2015 graduate of St. Ignatius High School in Cleveland, OH, Andre Wolford is a favorite among our members. After graduation, Andre continued his playing career at St. Francis University in Pennsylvania. Following his junior season, Andre was named the Northeast Conference's Most Improved Player and would later be named team captain as a senior. After graduating in 2019, Wolford realized his dream of playing professionally when he signed a contract with KB Ponte Prizren of the Kosovo SuperLiga.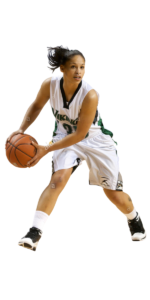 Honesty King joins the HoopTech as a Trainer/ Coach.
Jason Perry,  HoopTech as a Trainer/ Coach.
Ethan is a detail-oriented, future-focused, and empathetic basketball coach from Long Island, NY. As a player he was recruited by 200+ colleges DI-DIII and eventually decided on Hunter College in the middle of Manhattan.
As a coach, he quickly rose through the ranks within the Greenwich Stars basketball organization from Assistant Coach to Director of Training and Development as well as the Head Coach of the top 4th grade team in the state of Connecticut. He looks to instill a culture of effort and accountability on and off of the court that will carry players far beyond their time together.